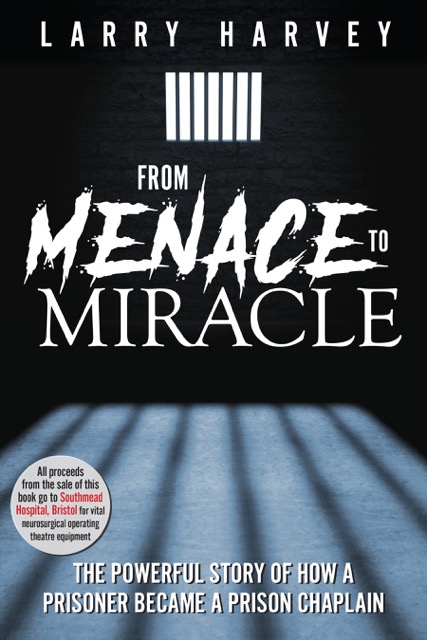 17th Jul, 2018
'From Menace to Miracle' a blog by Larry
This blog is by Larry Harvey a prison chaplain and member of the GRT community
I was a bad boy – but I had a good upbringing. My Father very successful scrap dealer, I remember being driven to school in a Rolls Royce.
I was really active when I was young; I got into boxing at the age of 13, at first I was really dedicated, my aim was to fight at the Moscow Olympics.
However things did soon start to go wrong, I went off rails at about 17 and I got into drink and drugs in a big way.
I managed to get myself into a lot of trouble, but it was because of how I was behaving it was not a result of my background. The GRT community gets a lot of bad press, but there good and bad in every community whatever the background.
I got involved in organised crime and 30 years ago I was in Prison on remand.
In 1998 my daughter who was 18, was ill in hospital and was put on waiting list for an operation my wife was with her at the hospital one day in the coffee shop, they must have looked really desperate because a church worker called Steve came over to them and asked if he could pray for them, they said sure.
Shortly after that we were told that our daughter could have the operation the next day as there had been a cancellation – it was brilliant news.
She went into surgery, but suddenly she had a very bad reaction to pre-med. The staff were able to stabilise her but doctors then discovered that she had a serious pre-existing condition which caused the reaction. They told us that had they not found out during this surgery she may well have not survived much longer.
It was a miracle.
She was still very poorly. I went to chapel and prayed - suddenly I had what I can only describe as an experience and somehow I knew everything was going to be alright and as it turned out, everything was.
I met up with Steve and started going to church group with him. I got more involved with the church and eventually this led to me volunteering as a chaplain in prison and eventually becoming a full-time Christian chaplain.
I feel strongly that the story of my journey could help to inspire others to change and so I have written a book called 'From Menace to Miracle' hopefully by sharing my experiences I can support others, also I am donating the proceeds from the book to Southmead, our local hospital.
My experiences over the last 10 years working in prisons have proved to me that the families and children of prisoners from the GRT community are affected by additional issues over and above those from more mainstream communities.
Many GRT families are patriarchal in their make-up, and the man at the head of the household will often have a lot of information that is needed by the family in his head. This information could be anything from motor insurance details to the telephone number of a solicitor. Some of this information may be needed by families quite quickly, but the restrictions of custody mean that it could be days before essential material can be passed on.
As families move around the country, the distance they may have to travel in order to visit a prisoner may start to become prohibitive.
There are certain offences – such as targeting older people – which may lead to the offender and possibly his family being ostracised by the community that they are a part of.
It has been reported that frequently, prisoners from the GRT community have experienced difficulties in getting permission to visit very ill relatives or to attend family funerals.
In a similar way there have been issues with being granted tagging (Home detention Curfew), and/or places in hostels which has led to delays in release.
It can also be difficult to set up regular probation appointments if someone is moving around the country.
Sometimes people with a GRT background express their emotions in a very vocal and passionate way – particularly when they are frustrated or when things go wrong – this behaviour will often make others around them (prison staff or other inmates) uncomfortable and suspicious.
Young men in particular, because they are used to living in a tight community, can often be drawn into gang culture in prison – they feel the need for a sense of 'belonging'. This is more likely to happen if there are no other members of the GRT community in prison with them. Many prison managers fell that groups of GRT prisoners should be split up in prison, but I feel strongly that this should not be the case.
In recent years there has been a lot more understanding and tolerance towards GRT prisoners – mainly as a result of staff training. It is vital that this awareness is continued across the entire Criminal Justice System.