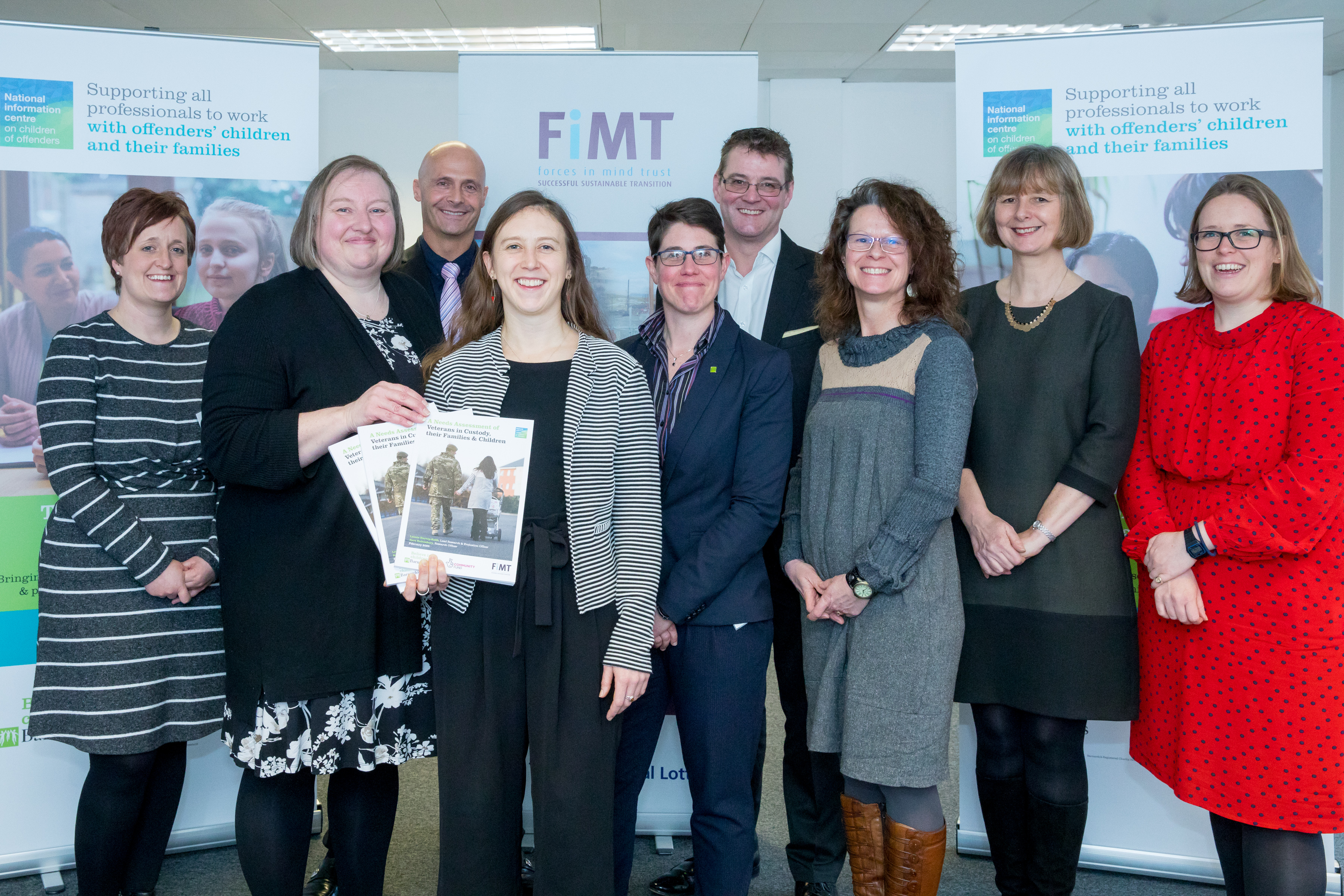 04th Mar, 2020
Veterans in Custody, their Families & Children
In 2018, Barnardo's NICCO (National Information Centre for Children of Offenders) was funded by Forces in Mind Trust to conduct a needs assessment of veterans in custody, their families and children.
The need for research
Former members of the Armed Forces constitute one of the largest occupational groupings in prisons in the UK (Howard League for Penal Reform, 2011) with estimates of between 3.5% (DASA, 2010) and 6% (HMIP, 2014) of the prison population. The transition from military to civilian life can be a struggle for both the individual veteran and their families. Accessing employment, debt, housing, alcohol misuse, mental health and family relationships are frequently reported as challenges into the transition to civilian life and this complex landscape of issues may increase the risk of criminal activity.
Following the Farmer Review (MoJ, 2017), we know that maintaining positive family relationships is key to reducing re-offending and this report provides detailed evidence to reinforce the importance of family relationships as well as the barriers which exist to accessing support.
The report considers the individual needs of the veteran offender, the partner (or co-parent) and children on the basis that as a whole family unit, these needs interact and impact on the wider family needs.
Since September 2018, Barnardo's researchers Leonie Harvey-Rolfe and colleague Sara Rattenbury have spoken to 18 veterans with experience of custody, 5 partners, 5 children and 25 professionals to provide detailed insight into the needs and experiences of this group.
What we found:
Key findings include:
- Family breakdown levels are high amongst the sample and often this separation has occurred before the father went into custody
- Mirroring the transition from military to civilian life, the greatest challenge is at the point of release from custody when transitioning back into the community
- When veterans and families do access support on offer, feedback is largely positive.
Finding families to speak to was a real challenge; made even harder by the fact that the family situation of veterans in custody is largely not documented. In addition to this, we found a high level of family breakdown within our sample, with the majority of families already separated before the father went into custody. How would a child, partner or ex-partner know they can receive support from military charities if they are separated from the father and/or weren't even around when he was in the military?
We know that for all families of offenders, there is a huge degree of stigma and shame that means that their needs often remain 'invisible' to those around, and they undergo their own 'hidden' sentence alongside their parents' imprisonment. For families with a military background, our research found that this is even more acute, with the added shame of having fallen from a place of pride of serving the country into the criminal justice system, reinforcing military training of keeping things in the family and not asking for help. In this context, proactive, consistent and specially trained professionals are needed to build trust with families throughout the father's time in custody and beyond. Veteran in Custody Support schemes for example, need to be properly funded so staff are given the time, training and resources to build a consistent service which extends out to the family.
Just like the transition from military to civilian life, it is the point of release from custody back into the community that is the most challenging for veterans and their families. Strategies like 'release of temporary license' enable families to gradually adjust to having the father back at home, acknowledging that this is a psychological and practical transition that the whole family must undergo, not just the offender.
Recommendations & Dissemination
In total, we made 14 recommendations which mapped the journey before, during and after custody.
Key recommendations include:
- Opportunities need to be developed to facilitate peer support for veterans, partners and children
- Consistent and funded veteran support services should be in operation across all prison estates
- One agency should take responsibility for overseeing and coordinating support for children of offenders before, during and after their parent is in custody
The report was launched in Birmingham on 10th February and attended by over 80 professionals eager to discuss the findings and how to implement the recommendations going forward.
Please go to our page on the NICCO website to find:
- The full report
- Executive summary
- Glossary of support services available
- Leaflet for families summarising the research (for professionals to disseminate)
If you would like to get in touch to discuss further or invite us to speak at meetings/forums to help with the research dissemination, please email sara.rattenbury@barnardos.org.uk